ABOUT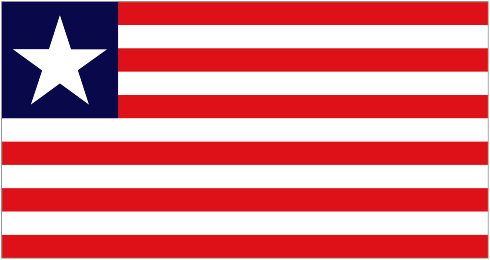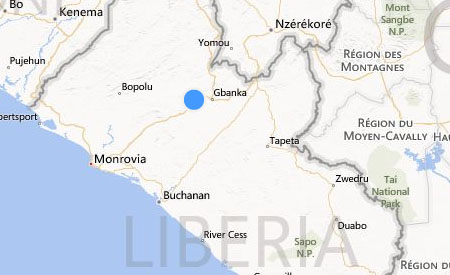 The State of Maryland along with Bong County &  Maryland County, Liberia came together in August 2007 to sign a Memorandum of Understanding (MOU) which created a Sister State relationship.   President Ellen Johnson Sirleaf, Mrs. Sharon Pinder, and Retired Senator Michael Bowen Mitchell were all instrumental in making this MOU signing a success. Through this partnership, opportunities in business, industry, art, culture, education, health, and tourism became possible for all parties involved. This would help promote the commercial cooperation and development of joint programs of exchange in all of these areas.  The programs would not only help the State of Maryland but would help the 4.8 million citizens who live in Liberia. The superintendents at the time of the signing were: Ranney Jackson of Bong County and J. G. Bleh Bo Brown of Maryland County.
MARYLAND COUNTY, LIBERIA
Capital: Harper
Largest City: Pleebo
Districts: 7
Established: 1857
Population: 136,404 (2008)
Total Area: 2,297 km
Tribes: Grebo, Kru
University:  William V.S. Tubman University
Resources: Rich Soil, Ocean, Rivers, Lakes, Forest, Rubber, Palm Oil, Coffee, Corn, Rice
Minerals: Gold, Manganese and Bauxite
Industry: Agriculture (Rubber & Palm Oil Plantation), and Fisheries
Sea Port:Port of Harper
Tourism: Coastal areas such as Fish Town beach.  The potential for developing resorts, heritage sites, & renovating historical buildings to attract International tourists.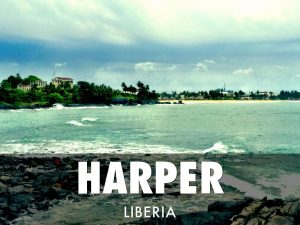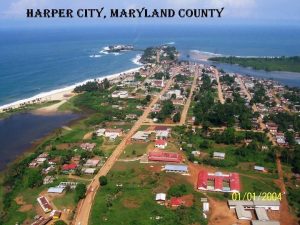 Maryland County is located in the Southeast most corner of Liberia and borders the Atlantic Ocean to the South; the Cavalla River representing the international border with the Republic of Ivory Coast to the East; Grand Kru County on the West;   and River Gee County to the Northwest.
Maryland County is one of the first four counties of the Republic of Liberia. Initially, this County was not part of the Republic of Liberia during its founding. The County was established by a resolution of the Legislature of the Republic of Liberia in 1857.
The resolution admitted the State of Maryland in Liberia as a County to the Republic with all privileges, immunities and rights accorded the three original counties. The Maryland State Colonization Society as a homeland founded the territory on February 12th,  1834 for free American Slaves.
Harper City is the political capital of the County and is also known as "Cape Palmas".  Harper is a port city and is connected to the rest of the country by road, air, and sea.  The population, primarily Grebo, is historically reliant on subsistence agriculture, fishing and rubber tapping for its livelihood. The flag of Maryland County has three major colors, green, blue and yellow, with a palm tree and lighthouse inscribed in the field. The green color and the palm tree denote the county's abundant natural vegetation; the yellow color depicts the "sunshine", the blue color for the 'valor' of the County and the lighthouse as a guide for navigation. The County flag also has an insertion of the Liberian National Flag on the upper left-side.
BONG COUNTY, LIBERIA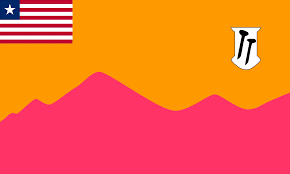 Capital: Gbarnga City
Districts: 12
Established: 1964
Population:  328,919 (2008)
Total Area: 4,574.1 square miles
Tribes: Kpelle, Mandingo, Mano
University:  Cuttington University & Bong County Technical College
Resources: Cocoa, Coffee, Rubber, Palm Oil, Rice
Minerals: Iron Ore, Gold, Diamonds
Industry: Mining
Sea Port: None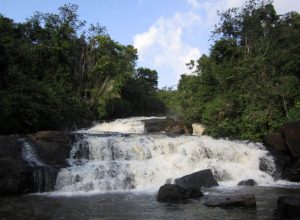 Tourism: Bong County is blessed with two beautiful waterfalls: The Kpatawee Waterfall and the Sicken Town Waterfall.  Kpatawee Waterfall or the Kpatawee Falls is a tourist destination situated in Bong County of Liberia which is 32 kilometers away from Gbarnga and 160 kilometers away from Monrovia. It is a bit of a travel but going to the destination is an adventure where you will experience lush scenery along  the way vibrantly filled with colored butterflies, jungle frogs, endless species of exotic birds are just everywhere. Trees are green and abundant, and the waterfalls provide a sense of serenity and beauty.
In 1964, Bong County was established.  Bong County has the third largest county population in Liberia and is the third largest County in terms of area. Gbarnga, a name for an old farm, is the County 's headquarters.  Prior to the civil war, Bong County had two major hospitals:  Phebe Hospital and Bong Mines Hospital. The County is once known as the food basket of Liberia also grows crops such as cocoa, coffee, rubber and palms in addition to its rice production.  Bong County is located in the central region of Liberia. It is rich in minerals and has five mining companies: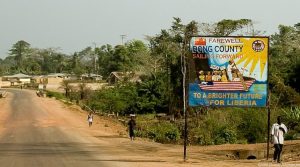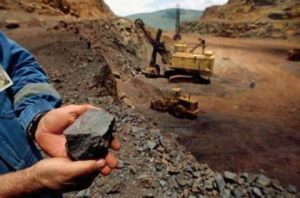 China Union
Mittal Steel
BHP Billiton
AMLIB
Jonah Capital
Bong County represents one of the largest iron ore reserves in Liberia and in the world having estimated reserves of 4 billion tonnes of ore grading 36% iron metal.  Bong County also hosts three alluvial mining sites in and around Degei in Fuahmah District, Garmu in Jorquelleh District and Gold Camp, Meng Creek and Yelle Creek.
Bong County's flag is purple and orange. Purple signifies the dawn and the County's newness is represented by orange. There are two geological instruments in the white field portion of the glad symbolizing Bong County's mining industry.
Bong County is home to Cuttington University College and the Bong County Technical College.  Phebe Hospital also runs a School of Nursing at its Suakoko Compound. The county is also home to Central Agricultural Research Institute (CARI) and Rural Development Institute (RDI).
The County's former and current superintendents include: Mr. James Y. Gbarbeayea, Mr. Augustus Korkoryah, Mr. Harry Augustus Greaves, Sr., Mr. Joseph Yowarteh, Hon. Bardeh B. Zaza, Mr. Ayon Cassell, Mr. Venecious K. Vorkpor, Mr. John Najohn Suah, Mr. J. Fulton Dunbar, Mr. Aloysius Sackie, Hon. Daniel Weedtol and Mr. Ranney B. Jackson who was instrumental in signing the MOU Agreement with the Maryland Sister States Program.  Often times, Bong County is often referred to as the "Heartbeat of Liberia."
CURRENT INITIATIVES
In 2018, the Maryland Liberia Sister States endeavors to conduct the following projects in Bong and Maryland Counties Liberia:
Conduct a Health Fair to provide Health Awareness in Diabetes, Hypertension, Breast Cancer, and Proper Nutrition in Liberia
Collaborate with Universities in the State of Maryland and Universities in Bong & Maryland Counties Liberia
Partner with Businesses in Maryland to stimulate economic development in Bong & Maryland Counties, Liberia
Provide Medical Equipment & Supplies shipments to strengthen medical facilities in Bong & Maryland Counties, Liberia
Provide Disaster Relief Supplies & Emergency Management Training to Bong & Maryland Counties, Liberia.
PAST INITIATIVES
Since the MOU signing in 2007, Liberia's Bong & Maryland Counties as well as the State of Maryland (USA) have collaborated on projects involving clean water, sanitation, health, education and development within Liberia.
Liberia became the 7th US Sister City/State to be awarded a grant in the amount of $115,000.00 from the Bill and Melinda Gates Foundation. This foundation pilots projects such as Africa's urban poverty elimination program that addresses solutions to sanitation, health, and clean water issues.  Through this grant the Maryland Liberia Sister States was able to conduct the following projects in Bong and Maryland Counties that impacted 19 communities:
Construct 10 new hand pumps
Repair 10 damaged hand pumps
Construct 3 public toilets
Maryland Liberia Sister States mobilized engineers to Liberia to aid in the construction of roads and bridges in Bong & Maryland Counties
Maryland County High Schools were issued education materials, supplies, and lesson plans
Business, Civic, & Education Leaders visited Liberia to help strengthen development in Bong County
LATEST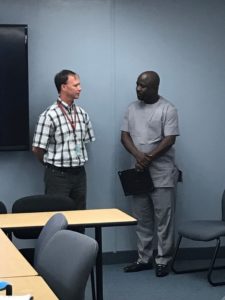 Alexander Noah (right), a visiting port manager from Liberia, chats with Bill Richardson who heads up environmental management for MDOT MPA.
Photo by MDOT MPA
From the GreenPort March/April 2019 newsletter:
In May 2018, Baltimore was host to the first GreenPort Congress held in North America, drawing nearly 200 attendees from 14 countries and six continents. The Liberian delegation was so impressed, they sent Alexander Noah, the manager of their Port of Greenville, to Baltimore for a two week informal fellowship. He toured the marine terminals and Cox Creek DMCF, and attended meetings with the BPA, Wallenius Wilhelmsen Solutions, Ports America Chesapeake, and the staffs of the MDE and MDOT MPA.
Reflecting on his experience in Baltimore, Noah said, "I can equate this two-week training to almost having a master's in port management." He noted the "impressive and coordinated" security at the port, partner engagement to better understand state and federal laws, long-term planning, and communicating achievements.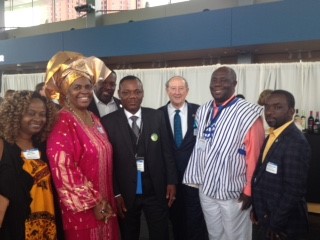 On May 17, 2018 representatives from the Maryland-Liberia Sister State Committee attended the Sister Ports Reception in Baltimore, an event organized by the Baltimore-Rotterdam Sister City Committee in celebration of the Green Ports Congress held in Baltimore that week. Maryland Secretary of State John C. Wobensmith is pictured with representatives of the Liberia Sister State Committee, including Mr. Harry Tenumu Conway, Liberian ports representative in London. Mr. Conway participated in panel discussions during the Green Ports Congress.
On March 5, 2018, the Maryland Liberia Sister States committee in collaboration with the State of Jalisco, Mexico Sister State committee coordinated a donation shipment of two 26' Trucks filled with medical supplies and equipment to Tamaulipas, Mexico.  The total value of the medical supplies & equipment was over $350,000.00.  This project was initiated by Wesley Chenoweth, General Secretary of the Maryland Liberia Sister States and Robert Horn, Executive Chair of the Maryland Jalisco Sister States.  Similar collaboration is necessary to send a shipment to Liberia.  Help is needed.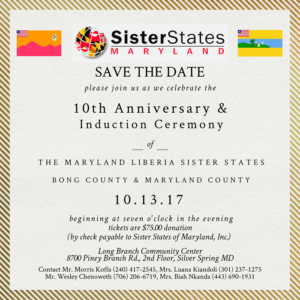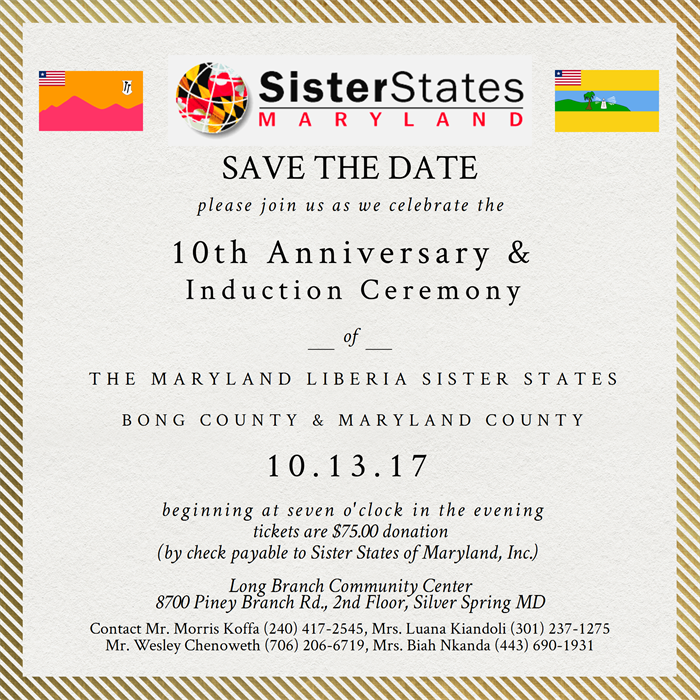 On October 13, 2017 the Maryland-Liberia Sister States of Bong County and Maryland County celebrated the 10th anniversary of their sister state relationship alongside the induction of new officers:  Dr. Morris Koffa (Chairman), Mrs. Luana Kiandoli (Vice Chair), Mrs. Biah Kun Nkanda (Treasurer) and Mr. Wesley Chenoweth (General Secretary).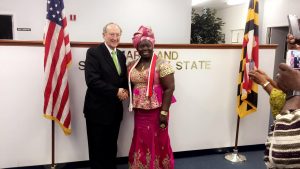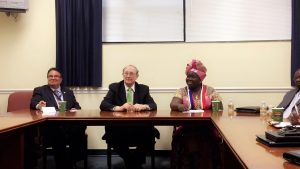 On July 24, 2017, Mayor Viola Cooper of Gbarnga City,  Bong County, Liberia met with Secretary Wobensmith and Deputy Secretary Borunda in Annapolis. The Mayor was accompanied by members of the Maryland – Liberia Sister States Committee. Maryland has had a Sister State relationship with Bong County since 2007, and Gbarnga City is the capital of Bong County.
On July 14th, 2017, the Maryland Liberia Sister States attended the "Mandela Day" Program for the Nelson Mandela Fellows & YALI (Young African Leaders Initiative).  There were two Liberian YALI – Nelson Mandela Fellows being honored, Ms. Laura Targbeh and Ms. Elsie Sidy.
On June 28, 2017 the Maryland Liberia Sister States attended the Loyola University Presentation and pleaded for help for Liberia's Education system.  Possibilities for partnership with Loyola University and Liberia are in the discussion phase.
On April 19, 2017, the Maryland Liberia Sister States participated in the Taste of Business West Africa event hosted by the World Trade Center Institute and SPARK in Baltimore.  This event was a networking mixer aimed at discussing opportunities for business and trade in West Africa with corporations and organizations in Maryland.
On April 5, 2017, the Maryland Liberia Sister States attended the Maryland Korea Sister States event, "Taikwondo Day".  Our general secretary, Wesley Chenoweth, represented the Liberia committee to show support to our fellow Sister State of Korea due to the Secretary of State, Mr. John Wobensmith's encouragement of all Sister State committees to work together and collaborate on similar projects and events.
On October 24, 2016, the Maryland Liberia Sister States attended a tour of the Maryland Emergency Management Agency (MEMA) with the Liberian Ministry of Health to discuss how the office of emergency management works in Maryland and how an Incident Command Center can be established in Liberia.
CONTACT
Dr. Morris T. Koffa
Chairman of the Maryland Liberia Sister States
Tel: 240-417-2545
Email 1: marylandliberiasisterstates.mk@gmail.com
Email 2: koffamkoffa@aol.com
Mr. Wesley O. Chenoweth, Jr.
General Secretary of the Maryland Liberia Sister States
Tel: 706-206-6719
Email: marylandliberiasisterstates.wc@gmail.com
Web: www.marylandliberiasisterstates.org
Social Media: www.facebook.com/marylandliberiasisterstates