The Latest

Maryland and Cross River State Sign a Memorandum of Understanding.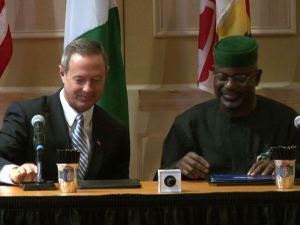 August 20th, 2013 at a historic ceremony in Annapolis Maryland, Governor Martin O'Malley of the State of Maryland and Governor Liyel Imoke of Cross River State signed an MOU that sealed a friendship pact that will promote business, agriculture, education, industry, tourism, and culture between the two states. Speaking at the ceremony, Governor O'Malley noted that the sister state relationship between Maryland and Cross River provides a unique opportunity for Maryland and its citizens. He further noted that Maryland is home to 23 thousand Nigerians, one of the fastest growing immigrant communities in the state. On his part, Governor Imoke noted that the pact would provide an opportunity for the two states to strengthen partnerships and relationships, share experiences, and take advantage of opportunities in key sectors with the hope of significantly impacting on the people of Cross River State and its economy. He also hoped that it would lead to stronger partnerships in the development of the social sector and developing areas in which Cross River has a competitive advantage within the context of the Nigerian economy. The signing ceremony, which was hosted by Governor O'malley's office at the Miller Senate Building, was well attended by various partners, delegates, CRS Committee members, State staff, friends and well wishers. In the tradition of Cross River State, the governors and the audience were joyfully entertained by cultural dancers.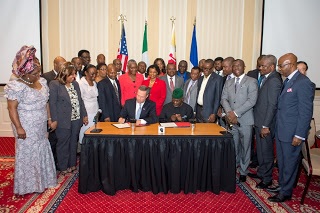 During the run up to the MOU signing, Governor Imoke and his delegation met with several potential partners including the University of Maryland College Park, Maryland Office of Tourism, Department of Health and Mental Hygiene, Department of Business and Economic Development, and Johns Hopkins University Hospital Officials. It is worth noting that at the signing ceremony, Cross River State also signed a partnership MOU with the University of Maryland, College Park.