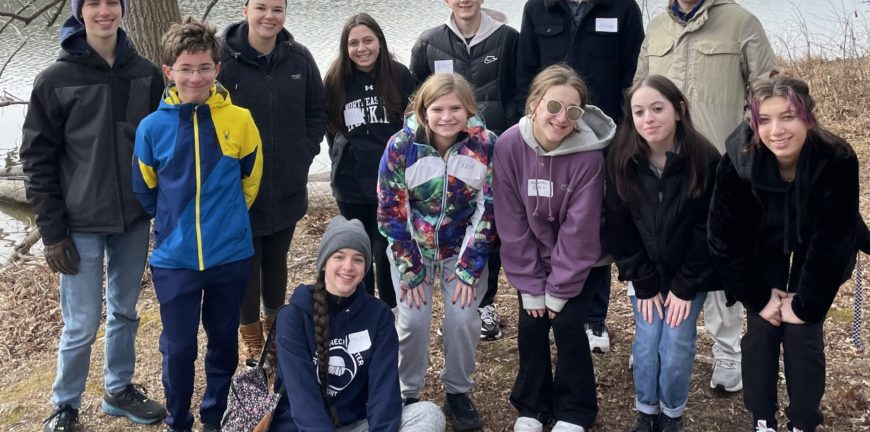 Maryland and Israeli High Schools Partner for STEM and Water Diplomacy
Rockville, Maryland, and Arad, Israel, January 13, 2023 – 
Students in Maryland and Israel are working together to test the quality of their local water sources. Since September 2022, high schoolers from Rockville's Charles E Smith Jewish Day School (CESJDS) have been monitoring Maryland lakes, streams, reservoirs, and the Potomac River. Simultaneously, in the Negev Region of Israel, a class from the Israel Sci-Tech Arad High School has been testing three natural springs, the Dead Sea, tap water and seasonal floodwater. With guidance originating from the Maryland Department of the Environment, students on both sides of the world have been using a protocol developed by the Izaak Walton League of America (IWLA) to measure the nitrates, nitrites, phosphates, dissolved oxygen, pH, chloride content, temperature, and turbidity of their water. Future testing is planned for the detection of per- and polyfluoroalkyl substances ("forever chemicals"). The students submit their results online to the Clean Water Hub (www.cleanwaterhub.org), a database that houses water quality data collected by volunteers nationally—and now internationally. The two schools' students have held joint meetings via Zoom to compare their findings on the water resources that they test.
| | |
| --- | --- |
| | |
| Kate Morgan, CESJDS Senior | CESJDS Students at Clopper Lake |
The program is the brainchild of Kate Morgan, a CESJDS senior who developed a passion for water in early childhood while frequenting local Maryland park creeks with her family and her dogs. Now a devoted student of STEM, Morgan has become aware how imperiled the global water supply is. As she puts it, "A resolve welled up in me to protect its sustainability." 
Morgan simultaneously pursues her conservation objectives via science and citizen diplomacy. Since 2019, she has served as the Student Chair for the Maryland-Israel Sister State Committee, a nonpartisan organization affiliated with Maryland's Office of the Secretary of State. Through her work with the Committee, Morgan recognized that Maryland and Israel have both become world leaders in water management. According to Morgan, "I was brainstorming ways to connect this water leadership legacy to my generation. Ultimately, I established a partnership between Maryland and Israeli students to test water quality in our two countries because I felt it was important to have a baseline to understand what resources we are working with before we can determine what we need to change." Working first with the Israeli Embassy and then the nonprofit Friends of Israel Sci-Tech Schools, Morgan found a willing water partner in the Israel Sci-Tech High School in Arad, ironically a school located in Israel's largest desert. 
On the Maryland front, Morgan, who serves as a STEM Center Fellow at CESJDS, worked with Upper School STEM Coordinator Cassandra Batson to recruit other Fellows and STEM-minded schoolmates. Sending emails and making cafeteria pitches, Morgan expanded the group to successfully assemble a committed CESJDS research team.
IWLA Clean Water Program Director
Samantha Briggs with CESJDS Students
Israel Sci-Tech Arad High School Students
Hiking to David Stream
After securing a grant from Sister States of Maryland, Inc., Morgan sought out the expertise of Samantha Briggs, Clean Water Program Director for the IWLA, to design the testing kits and later to make sense of the data collected. She assembled water-monitoring test kits for 60 students and shipped half to Arad. During the program-wide Zoom meetings with both schools, Briggs has helped the students understand and appreciate the differences between water resources in Maryland and Israel, as well as the likely causes for variations in their chemistry and quality. While most of the drinking water in Arad, for example, comes from sources that have to be desalinated, the tap water in Montgomery County, Maryland, originates from the Potomac River, a freshwater source.  
Through the program, the students have also been learning best practices that communities and their leaders can follow to protect water resources—promoting awareness remains top priority. Based on the success of the partnership, the Maryland-Israel Sister State Committee is now preparing a proposal to expand the program to up to 30 schools in Maryland and Israel and has received inquiries from third-parties in countries like Turkiye to include their schools. As Morgan reflects on lessons learned, "Building community around this issue shows us the power that long-term planning and persistence—as well as neighborly and international cooperation—can provide to address formidable global crises, like preserving our world's clean water sources."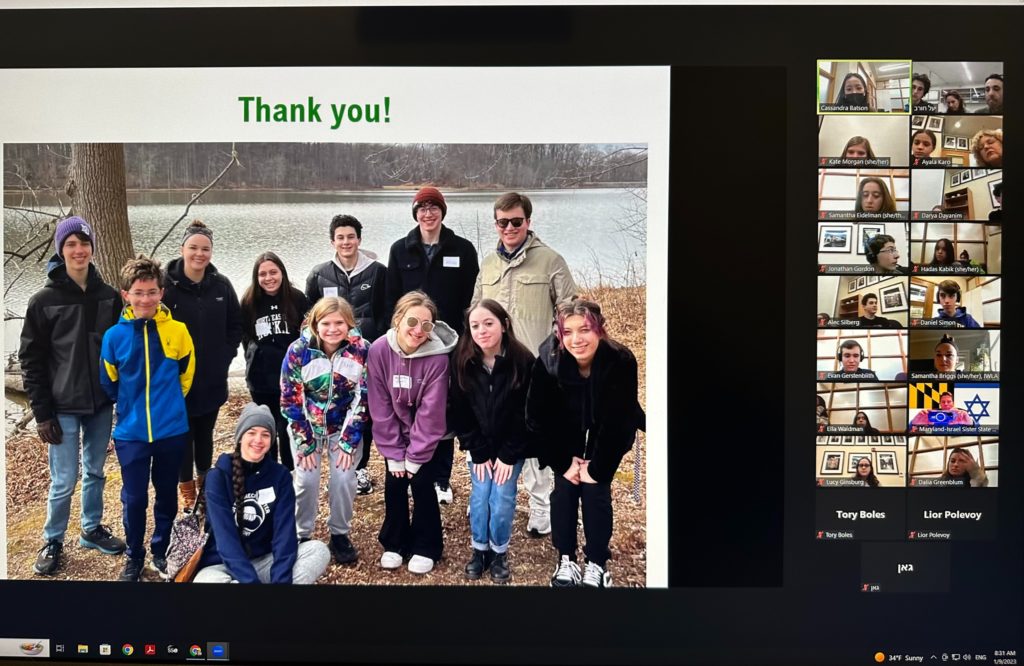 Partner Organizations
Charles E Smith Jewish Day School (Upper School STEM Center)

Israel Sci-Tech High School in Arad, Israel

Maryland-Israel Sister State Committee

Friends of Israel Sci-Tech Schools

Izaak Walton League of America

The Embassy of Israel 
Contact
For further information, please contact:
Kate Morgan, Student Chair, Maryland-Israel Sister State Committee:

kate@mdisrael.org