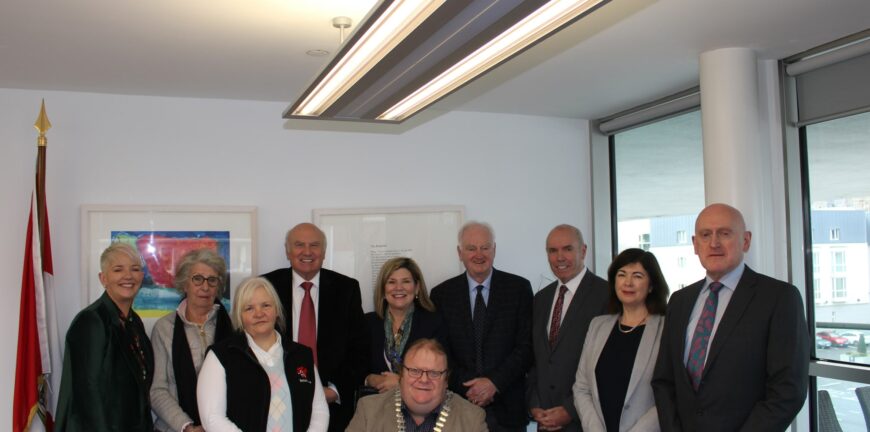 Sister States Delegation Visits Ireland
A Sister States of Maryland Delegation consisting of Board of Directors, Candice Kelly and Patrick Capurro, visited Ireland Jan. 5 – 12, 2023, as follow-up to a trip made to Ireland by Governor Hogan in June of 2023. The focus of both trips was to cultivate equine relationships.
With the help of Irish citizen and Kildare resident, Ms. Frances Horgan, Mr. David Burns with Irish Thoroughbred Marketing, Mr. Ross Peddicord the Executive Director of the Maryland Horse Board Industry, and Dr. Finbar Brown with the Irish Embassy, the trip was very productive.
Specifically, the Sister States partnership with County Cork, which was entered on May 10, 2013 by former Governor Martin O'Malley but had gone dormant, was re-established. Counties Kildare, Tipperary, and Longford executed Memoranda of Friendship with Sister States of Maryland.
The execution of a Memorandum of Friendship is the first step taken in the Sister States process and allows time for the planning and implementation of a formal signing ceremony of the Memorandum of Understanding between our Governor and the Cathaoirleach (Mayor) of the County.
All parties agree that the signing ceremonies are to be very special events! We understand that County Longford's officials will be in New York for St. Patrick's Day, and it might be possible to arrange a ceremony during that visit.
In addition, to being welcomed by the Mayors, Council Members and staff of Counties Cork, Tipperary, Longford and Kildare, the delegation was warmly welcomed by the following:
Mr. Maurice Molony – Coolmore Stud
Mr. Noel Duggan and Mr. Thomas Duggan – Millstreet Green Glens Arena
Dr. Jean Van Sinderen-Law – University College of Cork
Mr. Pat Hanly – Royal Dublin Society
Mr. David Wardell – The Irish National Stud
Mr. Paul Keating – The Curragh
Ms. Caroline Strong – R.A.C.E.
At each location the delegation received tours that showcased the jewels of the Republic of Ireland as it relates not only to the equine industry but to your country's innovation and forward-thinking approach in this important area. From hobbyist to the racing thoroughbred owner, Ireland's appreciation, and respect for all aspects of the equine world explain why Ireland is No. 1 in the world.
Heartwarming and noteworthy was the little city that the Duggan family established, on behalf of the Irish government, to receive and shelter Ukrainian refugees. You would never know that 420 immigrants were housed at the Green Glens Arena. So clean and tidy and quiet. The respect shown to the families at such a dire time is a tribute to Ireland, the Duggan family, and the Irish people. Our little delegation was humbled and grateful to stand witness to this remarkable act of kindness.
Finally, it is quite an accomplishment for Sister States of Maryland, Inc. to establish partnership agreements with four counties in just one visit. We are quite proud of this and confident that these partnerships will be impactful for all parties involved.